Turin Black | Insurance Coordinator 
After being a stay-at-home mom for her two children, Turin turned her love for children into a career, going back to school at Kaplan University, a Certified Dental Assistant since 2012 & now an Insurance Coordinator, she couldn't be happier with her decision. She loves hearing the kids say they love coming to see us. It's great knowing that we can make their dental visits enjoyable! Turin, a native of Maine and an Air Force veteran, loves doing outdoor activities, spending time with her husband & family, as well as baking, crafts & puzzles.
Turin has been with Weeder Pediatric Dentistry since we opened, in July 2013. With all of her dental knowledge & attention to detail, she has become an excellent Insurance Coordinator! She communicates with your insurance company & manages dental claims to help receive insurance payments in a timely matter. After insurance payments are documented she mails out a billing statements if there is a remaining Patient Responsibility stated by your individual plan. Turin is happy to answer any questions you may have with your Explanation of Benefits (EOB), account balance or help bridge the gap between you & your child's dental plan.
---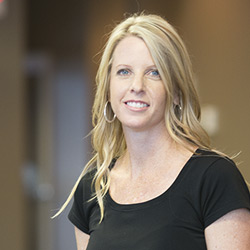 Danelle Weeder | Business/Office Administrator 
When Dr. Greg decided to open his practice, he turned to wife Danelle to manage the day-to-day tasks of running the office. She eagerly agreed, ready to put her past experience to work. Danelle is a licensed massage therapist and had her own practice before marrying Dr. Greg. She has been dedicated to being a full-time mother to the couple's two daughters, but now that they are both in school, she is ready to take on this new role.
Danelle is originally from Central City, Nebraska. She studied nutrition and business management at UNL, and earned her Massage Therapy License in Boulder, Colorado. Danelle enjoys cooking, practicing yoga, and learning the art of the flying trapeze. She enjoys time spent outdoors with friends and family, playing golf, sand volleyball, and time spent at the lake.
---
Jackie | Patient & Professional Relations Coordinator
When you enter our office for your next appointment, Jackie will be the first of our friendly team to welcome you! Whenever you need to schedule future dental appointments or to update any account information, Jackie will be your resource. She also communicates your concerns to our clinical team and to our referring doctors to ensure your dental experience is as pleasant and comfortable as possible. As our Relations Coordinator, Jackie is also very involved with our internal marketing and with our patient appreciation events!
Jackie grew up in Ralston, Nebraska, and moved to Greenwich, Connecticut, where she worked as a nanny for several years. Jackie moved back to Lavista, Nebraska, to be closer to her family and she worked in sales, customer service, and marketing for 22 years while she lived there. Jackie always missed working with children, and after taking her kids to see Dr. Weeder for their routine dental visit in 2014, it was obvious to her that Weeder Pediatric Dentistry was a special and unique place. Since March 2015, Jackie has had the opportunity to help other kids have the same amazing experience her kids had here. We're glad to have Jackie on our team!
---
Emma | Dental Assistant
Emma has been a part of our team since September 2017, and she loves the friendly environment we have here at Weeder Pediatric Dentistry! Emma completed the dental assisting program at Southeast Community College, and she loves being able to provide our young patients with a fun and friendly experience at our office. She enjoys being around kids and others who love kids, too. Emma is married to her husband, Logan. In their free time, they enjoy hunting and fishing. Emma also enjoys doing CrossFit.

---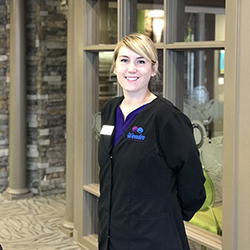 Amanda | Dental Assistant
We had the honor of Amanda joining our team in Nov 2015 Graduated from D.C. West High School in 2008 Became a Dental Assistant in 2010, graduating from Kaplan University. She has a son named Calvin & soon to be husband Marc. She enjoys going out with friends & spending time with family. The best part of the practice is the team she works with. Amanda always creates a fun atmosphere for kids to feel comfortable and that is a great contribution to this practice.